Geology
Associate Degree for Transfer - (CSUGE) AA941 (IGETC) AA942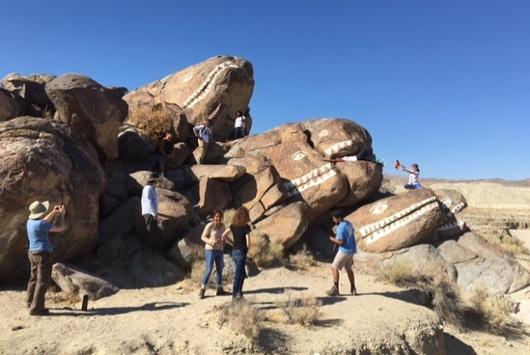 Geology
The Associate Degree for Transfer in Geology prepares students for success in a baccalaureate degree in Geology with the lower division course work required to transfer into the CSU system. Students completing the Associate Degree for Transfer in Geology will be prepared to transfer to a CSU as juniors and pursue a baccalaureate degree in Geology. The Associate Degree for Transfer in Geology utilizes the scientific method to develop knowledge regarding the Earth Sciences among students interested in pursuing a baccalaureate degree in Geology with the California State University (CSU) system. Areas of study within this program include the natural processes responsible for Earth's formation and dynamic history; the availability, recovery, and use of natural resources; geologic hazards; field methods in geology; and the evolution of life on this planet. Students receiving the AS-T degree in Geology will be prepared for transfer to CSU/UC or other university geology programs and will also be further prepared for careers as geologists in fields such as research, industry and education. The program requires two semesters of geology courses, two semesters of chemistry, and two semesters of single variable calculus.
Program Learning Outcomes
Upon successful completion of this program, students should be able to:
Demonstrate an understanding of the physical structure and natural processes which have shaped the universe, solar system, and Earth.
Identify and classify geological materials and demonstrate an understanding of their chemical composition and structure.
Apply the scientific method to solve geological problems.
Summarize the geologic time scale and explain its scientific basis, recount significant events in Earth history, and understand the basics of common absolute- and relative-age dating methods.
Express the role of geology in everyday life, appreciate the extent of human impact on Earth systems and environments, and explain the geological processes potentially giving rise to natural hazards.
Required Courses (26 Units) Units
Units
GEO 1
Physical Geology
3
AND
GEO 1L
Physical Geology Laboratory
1
GEO 1B
Historical Geology
4
CHE-1A*/1AH*
General Chemistry I/Honors
5
AND
CHE-1B*/1BH*
General Chemistry II
5
MAT-1A*
Calculus I
4
MAT 1B
Calculus II
4
PHY-4B*
Electricity and Magnetism
4
*Courses may also be used to fulfill general education requirements for the CSU GE or IGETC pattern, please confer with a counselor
Associate in Science for Transfer Degree
The Associate in Science in Geology for Transfer degree will be awarded will be awarded upon completion of coursework totaling 60 California State University (CSU) transferable units including the major requirements and the Intersegmental General Education Transfer Curriculum (IGETC) or California State University General Education (CSUGE) requirements with a minimum grade point average of 2 .0. All courses in the major must be completed with a grade of "C" or better.