RCC Counseling and Advising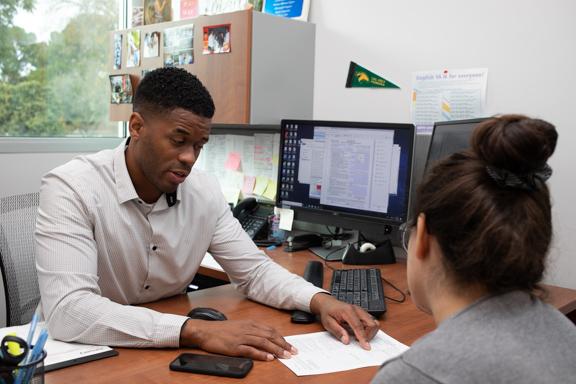 Let Us Help You Reach Your Potential
Counseling and Advising Support
You can do great things. Every student and member of the RCC community has great potential. Put in the effort and we will meet and match it. Talk to your teachers. Be open with advisers. Actively seek counselors.
Our counselors can help you select courses, find additional support, discover opportunities, and guide you in making decisions. We are your team. Here's your checklist:
Set Academic and Career Goals
Develop a Student Educational Plan
Explore Different Career Options
Understand the Transfer Process (and the potential benefits)
Explore other Academic Support Services
Make Friends or Meet Like Minded People
Meet with a counselor regularly — at least every fall and spring. Walk-in appointments are first-come, first-served (scheduled one week in advance).
Schedule Appointment or call us at (951) 222-8440
Find Your Future
The Riverside City College Career Center
With over 100 programs, deciding which one is right for you can be a challenge. Our Career Center can help you investigate your opportunities and narrow down your possibilities by evaluating your interests, aptitudes, skills, and other characteristics that will help you find your calling. You can also find listings for job opportunities, internships, and other tools/resources.
Answers Come From Questions
Frequently Helpful Information
Becoming a Student
Every Student Should Know
Healthcare
Mental Health/Support
New to College
Transferring Institutions
Important Links
Forms
College ID
Residency Information
Degree/Certificate Application
Transcript Request
Graduation
Veteran Services
International Students