Political Science Student Association Leads Local Level Civic Engagement Discussion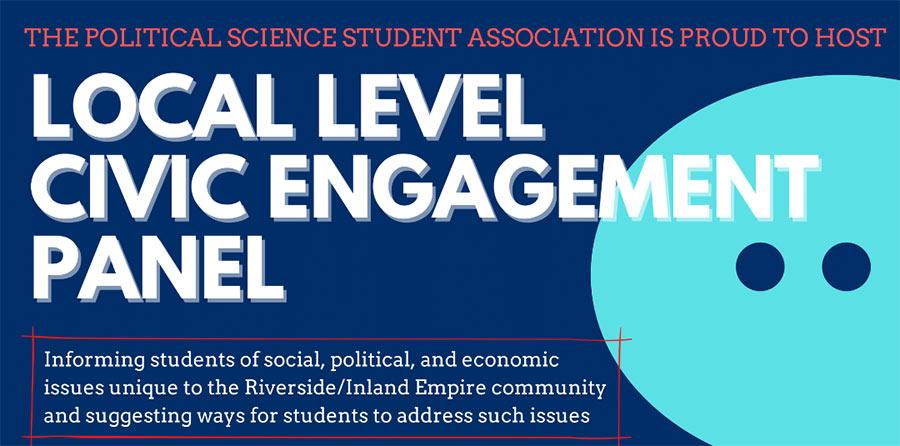 The Political Science Students Association (PSSA) hosted a local level panel discussion to inform students of social, political, and economic issues unique to the Riverside and Inland Empire. Developing this generation's civic literacy is vital to maintaining and strengthening the foundation of democracy.

PSSA understands the need to improve civic education and promote civic literacy, knowledge, and engagement among college students.

The exciting discussion included five local and civic leaders, three of whom are proud RCC alumni:
Ronaldo Fierro – Ward 3 Councilmember, City of Riverside and Business Owner.
Gracie Torres – Board, Western Municipal Water District and President for Center for Community Action and Environmental Justice.
Italia Garcia – Political Director, Center for Community Action and Environmental Justice (CCAEJ)
Adonis Galarza-Toledo – Interim Civic Engagement Coordinator at CCAEJ and Member of the Board of Education, Coachella Valley School District
Damien O'Farrell – President, Parkview Legacy Foundation
PSSA President Karen Esparza Lopez served as panel moderator addressing questions such as: How did you get into politics? What are the biggest issues that RCC students are aware of? How have your duties changed due to the pandemic? When facing complex problems, what is the hardest part of your job? What advice would you give students interested in being a public servant?

Topics discussed ranged from housing and climate, to the digital divide/connectivity issues, and unemployment. Representatives of different areas within the county and regions are not all experiencing the same challenges, yet they agreed that solutions impact everyone in the region.

Councilmember Fierro encouraged students to, "Deliver value in everything you do. Work hard because people see the value," while Galarza-Toledo advised students to build strong relationships.

Panelists also shared advice about how to get involved in advocacy on a local level. Each confirmed there are numerous volunteer opportunities that have a direct impact on the community.