International Students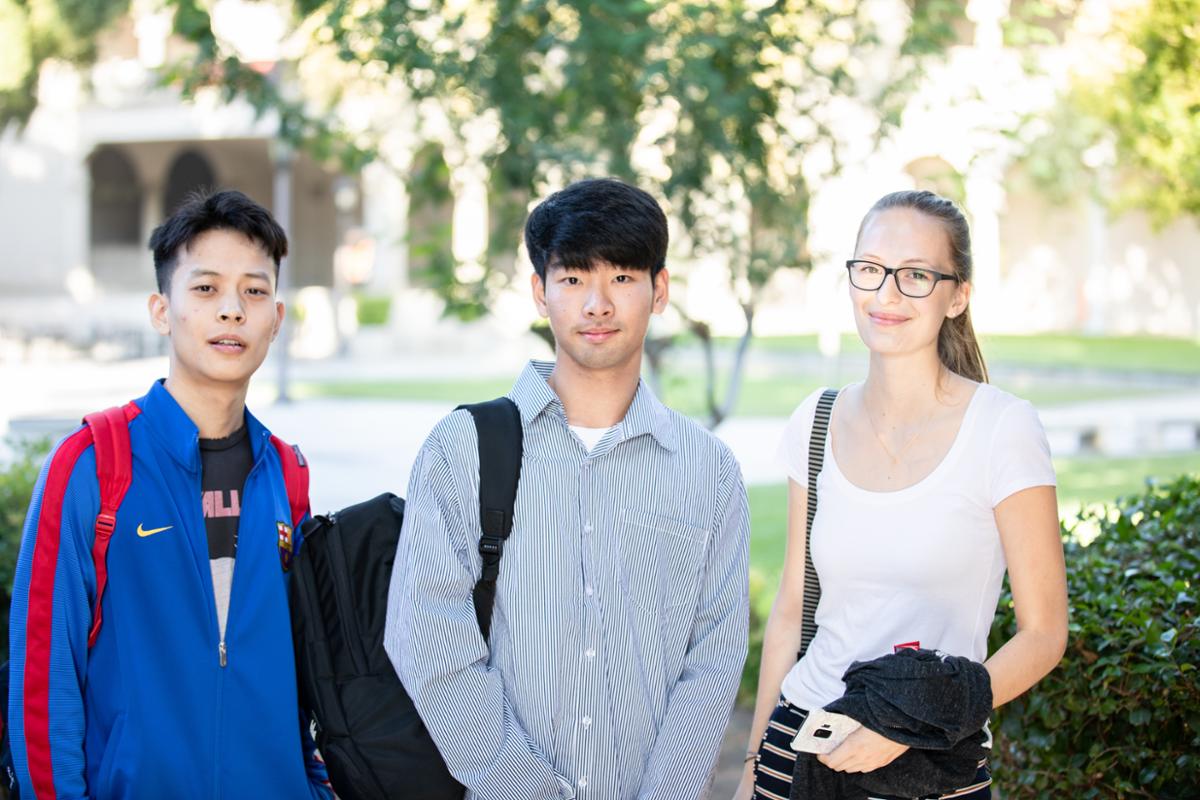 International students from around the world are welcome to join us at Riverside City College! Application and admissions is easy and quick.
RCC offers top quality accredited programs. These include highly in demand certificate, associate degree, and transfer programs. Please browse our programs of study. You can also find more information about our programs and courses (including course descriptions) in our Catalog.
The RCC Academic Calendar provides helpful information about exam periods, semester start and end dates, as well as holidays.
International Admissions

RCC has only two international student admissions requirement:
High school diploma or equivalent OR over the age of 18 (minors may be considered for special admission)
TOEFL iBT 45 or equivalent (See other accepted scores below)
Three Simple Steps for Application
Complete online application​
Send copies of the following to

internationalcenter@rcc.edu​:

Passport
Proof of English language proficiency (see accepted scores​)
High school diploma with certified English translation (not required if the applicant is over the age of 18)
Optional: College transcript with certified English translation if applicant attended college before

Pay $100 non-refundable application fee (Online payment is available through student account in Web Portal 72 hours after the online application is submitted OR submit a check or money order payable to Riverside Community College District)
Important Dates
Fall Semester
Application Begin: October 1
Application Deadline*: July 1
New Student Orientation: Mid August
Classes Begin: Late August
Classes End: Mid December
Spring Semester
Application Begin: July 1
Application Deadline*: December 1
New Student Orientation: Early February
Classes Begin: Mid-February
Classes End: Mid-June
Summer Semester
Application Begin: October 1
Application Deadline*: May 1
New Student Orientation: Early June
Classes Begin: Mid-June
Classes End: Late July
* Applications submitted after the deadline are considered on a case by case basis.
Notes

If the applicant is:
already in the US, submit a copy of F-1 student visa and all prior I-20 forms;
Transferring from another school in the US, submit Transfer ​Form, and
​Under the age of 18 years, submit Permission to Permission to Treat Minor Form
F2 students can study part-time at RCC. They need to follow the steps to submit an application , as above, but instead of proof of funding, they must submit a letter from the current F-1 visa holder's DSO verifying that the F-1 holder is in status.
International students at other colleges/universities in the US can enroll at RCC concurrently. These students are not required to submit proof of funding or English language proficiency. Instead, they must submit a permission letter from a DSO at their current college/university allowing concurrent part-time enrollment. These students must also submit I-20, visa, I-94 and passport copies.
All documents submitted for admission become the property of Riverside City College.
Students who apply to RCC after they took classes at a college or university in the United States, must submit their official transcripts
Students applying to RCC after taking classes at an American college must submit their official transcripts. If you took classes outside of the United States, you will be required to submit those official transcripts (in English) evaluated by one of the following organizations:
International Education Research Foundation, IERF
American Educational Research Corporation, AERC
Hard copies must be sent to:
Center for International Students & Programs
Riverside City College
4800 Magnolia Ave.
Riverside, CA 92506, USA
Cost and Tuition
International students' tuition, living and other costs are estimated at $21,193 per academic year.Tuition, Fees, Payments At-a-Glance
Tuition, Fees, Payments At-a-Glance
| Item        | Amount |
| --- | --- |
| Tuition  (24 units at $353 per unit)                          | $8,472   |
| Books, health insurance and other fees                 |  $2,721 |
| Housing & other living expenses      | $10,000 |
| Total (Minimum required for I-20)      | $21,193  |
Learn More About Tuition and Fees
All college fees are subject to change, and RCCD reserves the right to increase or modify fees without notice.
Credit cards must be authorized to be used in the United States, applicant assumes responsibility for payment, unsuccessful tuition payments will be denied.
Accepted Scores as Proof of English Language Proficiency
For admission to Riverside City College, international students must demonstrate English language skills through one of the following test scores/certificates.
Accepted Scores
| No | Test | Minimum Required |
| --- | --- | --- |
| 1 | AEC | Level 6 |
| 2 | CSUSB ELP | Level 4 |
| 3 | Duolingo​​ | 75 |
| 4 | EIKEN | 2, 2A, Pre-1, or 1 |
| 5 | ELS | Level 109 |
| 6 | Gaokao​ | 90 |
| 7 | IELTS | 4.5 |
| 8 | iTEP | 3.0 |
| 9 | LASC | English for Academic Purposes (EAP) |
| 10 | OCFL | TOEFL iTP 450 |
| 11 | Pearson PTE | 30 |
| 12 | TOEFL iBT | 45 |
| 13 | TOEFL PBT | 450 |
| 14 | UCR Extension | Level 600 |
| 15 | VUS (Vietnam) | EAP, English for Adults Intermediate, or English for Teens YP1 |
The following international students are exempt from the language proficiency requirement:
​Students coming from countries where English is a first or an official language
Students with a high school diploma from the USA
Students with International Baccalaureate
Students who had studied at an English teaching institution for over 2 years
Students with grade C or above in college level English from a regionally accredited college or university in the USA
Students who successfully complete specific ESL levels at a regionally accredited university in the USA
Other international students who submit a TOEFL Waiver Form​, and are approved by the Center for International Students & Programs.
International Student Stories
International students describe RCC as a top college choice in the USA because of its high quality programs, reasonable fees, safe campus, and excellent location in the city of Riverside in beautiful Southern California!