Riverside City College Student Financial Aid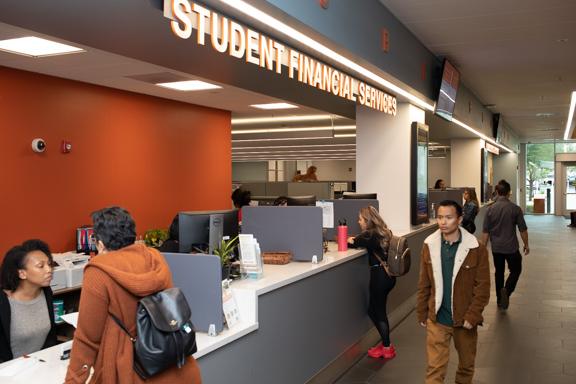 Apply For Financial Aid Today
Financial Aid
Just like classes, you need to apply for financial aid each year — October 1st is the first day FAFSA and California Dream Act applications are accepted. Applying is free, and you can even apply before you have registered for classes. Submit your application as soon as possible to increase your chance of receiving awards; some aid is first come first served. Need help? Application workshops are held year-round. Everyone should apply for financial aid, even if you do not think you are eligible.

There are different types of financial aid available. Apply using the Free Application for Federal Student Aid (FAFSA) application or the CA Dream Act Application. RCC will email you at your student email once your results have been received, with initial awards and next steps. You can view any tasks you need to complete by visiting Verify My FAFSA. Not all students will have required tasks. You can view your award letter on your RCC Portal, under the financial aid link.  
Contact Financial Aid
The office of Student Financial Services is here to help you succeed in college and to guide you throughout the financial aid application, eligibility and disbursement process. To get in contact with us, call us at (951) 222-8710 or send us a message with our online form.
Understanding the Costs
Tuition and fees are only part of the story…books, housing costs, food, personal expenses, transportation…there are other costs in your daily life as a student that you may not have thought about. To get an idea of what the net price/costs to attend school could be, click the button below to visit the Net Price Calculator.
How to Pay for College
There are many types of financial aid to assist you with your educational expenses. Click below to learn more about the financial aid opportunities available to you at RCC.
Financial Aid Support for Your Educational Goals
There are many types of financial aid available to you at RCC. The Free Application for Federal Student Aid (FAFSA) or the California Dream Act Application are required for most forms of financial aid. Types of financial aid include grants, scholarships, tuition waivers, and student loans.
Federal Grants
Federal Pell Grant (Part of FAFSA application)

 

Federal Supplemental Educational Opportunity

Grant (

FSEOG - Part of FAFSA application)
State of California Grants
 

California College Promise

Cal Grant Program

Student Success Completion Grant

Chafee Grant Program for eligible foster youth and former foster youth

California National Guard Education Assistance Award Program (CNG EAAP)
Scholarships
(separate applications required)
Scholarships are a great way to help you pay for your college education — offered from diverse organizations for a wide array of interests. Sports, music, faith, business, hobbies, technology…there are many options for how you can connect with additional funding.
2024-2025 FAFSA Changes
The FAFSA Simplification Act
The FAFSA Simplification Act was enacted into law as part of the Consolidated Appropriations Act in 2021 with the goal of streamlining the process through which students apply for financial aid. These changes are being implemented for the Free Application for Federal Student Aid (FAFSA) that students will use to apply for financial aid for the 2024-25 academic year beginning in December 2023. The FAFSA Simplification Act also significantly amended the formula that informs how students qualify for the federal Pell Grant. Below are resources to help you understand these changes.
Significant changes to the 2024-25 FAFSA form
The are several changes coming with the new form:
Significant reduction in the number of questions contained in the form.
The FAFSA will be a strictly role-based form. When the student logs in, they will only have access to student questions. When a parent or spouse logs in, they will only have access to questions that pertain to their role. Only when the final contributor finishes their section will the form be able to be submitted.
All students, parents, and spouses, regardless of whether they file a US tax return, will be required to check a box that grants the IRS permission to transfer any data they have directly into the FAFSA form. If no information is on file with the IRS, specific codes will be sent indicating that person's status with the IRS. All contributors providing information on the form must grant permission or the student will not be eligible for any federal student aid. https://rcc.financialaidtv.com/play/fafsa-simplification/what-direct-data-exchange
Family size will be based on the number of tax exemptions claimed on the tax form(s) that are being transferred into the FAFSA. If the family size has changed since filing the 2022 tax forms, there will be a family size question that allows for reporting the updated family size.
Child support received has been moved to the asset section of the form and therefore will only need to be reported for those families required to report assets. Child support paid out of the household is no longer a question on the form.
The demographic survey questions regarding race, gender, and ethnicity have been moved to the student demographic section of the form. Students will still have the option to decline to answer the questions. Answers to these questions will not be used in any way to determine aid eligibility and these responses will not be sent to the state agency or any colleges listed on the form. Parents will not be able to view the answers to these questions and they will not be included on the FAFSA Submission Summary.
If any contributor to the FAFSA form does not provide consent, submission of the form will still be allowed. However, a Student Aid Index (SAI) will not be calculated.
The Custodial Parent on your FAFSA will be the parent(s) who provided you with more financial support, instead of the parent(s) with whom you lived more during the past 12 months.
There will be two-step verification and all FAFSA contributors must have an FSA ID to log into the online form. There will be a new process to get an FSA ID for parents and spouses without a Social Security number.
Unusual Circumstances
The new legislation includes the creation of a "provisional independent student" for students with unusual circumstances that either (1) prevent them from contacting their parents or (2) contacting their parents would pose a risk to the student (e.g., abandonment, abusive environment, estrangement). If the student indicates they have unusual circumstances, they can complete the FAFSA without including parental information. Their FAFSA will then be processed and their Student Aid Index (SAI) calculated. However, postsecondary institutions will be required to follow up and gather documentation regarding the situation before any aid can be awarded.
When will the 2024-2025 FAFSA Application Open?
Expected to open in December of 2023. Check back later for an exact date.
Prepare for the 2024-2025 FAFSA Application
Create an FSA ID
Students, spouses, parents, and step-parents are now called contributors. All contributors can start creating their FSA ID now through https://studentaid.gov so they are prepared to complete the 2024-2025 FAFSA Application when it opens sometime in December 2023.
Changes to the FAFSA FAQ
No. Every student, parent, or spouse that wishes to log in and complete or sign the FAFSA will need to have a verified FSA ID. You will no longer be able to access a FAFSA with student demographic information only. It takes one-to-three days for an FSA ID to go through the verification process. Everyone should anticipate setting up their FSA ID at least one week prior to starting the FAFSA.
Yes. FSA is in the process of enhancing the FSA ID process so that individuals without SSNs will be able to establish an FSA ID to access and sign the FAFSA. There will be alternative steps for verifying one's identity within the process. Complete details of those new steps have not yet been released. FSA will use TransUnion services to ask knowledge-based questions to help with identity verification. Examples of these questions may include current or former address, a previous phone number, an employer, or a home/auto loan. Answers will be multiple choice (including "none of the above"). The signature page process has been eliminated with the new form. Those without Social Security numbers will not need an ITIN to set up an FSA ID.
If an individual's identity cannot be verified through the online process, there will be an option to contact FSA and submit documentation (unspecified at this point) to help establish identity and therefore create an FSA ID. If both processes do not allow for establishing an FSA ID, the student and parent(s) will need to complete the paper version of the form and submit it via the regular mail process. The paper form has more pages than in previous years and may require extra postage for mailing.
When establishing your FSA ID or when you last logged in, you should have been provided a one-time back up code. This code can be used when all other forms of verification fail. Make sure to write this code down and keep it in a secure location in case you need to use it. Once you have used the code, you will need to log into your FSA ID account and a new code will be generated. Keep the new code in a secure location.
Your Steps to Financial Aid
There are resources available to help you pursue your educational goals. We've put together an easy to follow guide for assistance to help you maximize the aid available to you while avoiding the frustration of missed deadlines. Submit your FAFSA or CA Dream Act application starting on October 1 of each academic year. Don't delay! RCC's school code is 001270.
Complete Your Application Online

Complete the FAFSA or the CA Dream Act Application each year beginning October 1st.

Enter our school code under the school section of your application

FAFSA: 001270

CA Dream Act Application: 00127000
Financial Aid Application Status
It takes on average 1 week for RCC to receive your FAFSA or CA Dream Act Application results electronically

We will email you at your RCCD student email with initial award information and possible additional tasks

You can view preliminary awards on your award letter under the financial aid section of Web Advisor
Not all students will have additional tasks to submit in addition to their FAFSA or CA Dream Act Application.

If you are notified via email that you have additional tasks, you can access your task list through the FA portal at

https://rcc.verifymyfafsa.com

Use your information as listed on your application to log into the FA portal

If you are having problems accessing your tasks through the FA portal, it may be:

You have not activated your RCCD student email or

RCC has not received your FAFSA or CA Dream Act Application
Your personal deadline, which determines when your funds will be disbursed is determined by:

Submitting all your required tasks on the FA Portal or

When we received your completed application without required tasks

You can view our deadline/disbursement schedule here
Revised award notifications are emailed to students based on the file processing deadline date you have been placed on.
Financial aid eligibility can be reviewed on the Financial Aid Award Letter on My Portal and WebAdvisor.
The amount of your award in My Portal and WebAdvisor is based on full-time enrollment (12 units); students who attend less than full-time will receive less financial aid.
Units Enrolled
Enrollment Status
Award Disbursement Eligibility
12+

Full Time

100%

9-11.5

Three Quarter Time

75%

6-8.5

Half Time

50%

5.5 or less

Less than Half Time

Pell to be determined if eligible
(not eligible for loans or Cal Grant)

Disbursement eligibility is based on enrollment status prior to the start of the semester. Unit adjustments due to late registration and late start classes will be disbursed on the next fall/spring disbursement date after the start of classes.
RCCD disburses financial aid funds to students through BankMobile disbursement services.
New Students:

Students new to receiving financial aid at RCC will receive a green welcome packet from BankMobile in the mail AND a welcome email to your RCCD student email with directions on how to log in and create your BankMobile account once your application and required tasks have been received.
Once your account is created, you can choose how you would like to receive your financial aid funds:

Direct Deposit to your personal bank account
Open a BankMobile VIBE debit account or
Mailed paper check

Returning Students: If you would like to make changes to the method of disbursement you previously selected from BankMobile, you can log on to www.refundselection.com to update your choice.
Avoid delays in receiving your financial aid funds.
Avoid changing your Home College selection (Riverside, Moreno Valley or Norco)
Make sure your mailing address and contact information is up to date and accurate on Web Advisor
All applications for financial assistance programs (i.e., student loans, work compensation, grants, scholarship, special funds, subsidies, prizes, etc.) will be considered by the Riverside Community College District without regard to ethnic group identification, national origin, religion, age, gender, gender identity, gender expression, race, color, ancestry, genetic information, sexual orientation, physical or mental disability, or any characteristic listed or defined in Section 11135 of the Government Code or any characteristic that is contained in the prohibition of hate crimes outlined in subdivision (1) of Section 422.6 of the California Penal Code, or any other status protected by law. Alternate formats for this material are available to individuals requiring disability accommodation. Please contact Student Financial Services at (951) 222-8710 or the Office of Diversity, Equity and Compliance at (951) 222-8039.
Satisfactory Academic Progress (SAP)
You are required to maintain Satisfactory Academic Progress (SAP), in order to continue receiving your funds. Each type of aid may have its own specific requirements. All students are evaluated at the end of each semester.
You are required to maintain Satisfactory Academic Progress (SAP), in order to continue receiving your funds — this will be true for all forms of aid. These measures may include:
Cumulative grade point average - 2.0 GPA
Complete 67% of units attempted
Complete program of study within a specific time frame

Each type of aid may have its own specific requirements — know what you must attain in order to avoid losing future funding or being required to pay back what you've already received.
All students are evaluated for SAP at the end of each semester.
You are required to maintain a cumulative 2.0 Grade Point Average (GPA).
There are two aspects of the quantitative standard:
Pace of Progression, you must complete 67% of the units you attempt. For example, a student who attempts 20 units, and successfully completes 12 of those units, would have a 60% Pace of Progression (12 / 20 = .60).
Maximum Time Frame, is the time in which you must complete your program of study. For example if a student is registered in a program with 60 required units for completion and the maximum time frame is 150%, then the student would be eligible for funding up to 90 units. You must complete your program of study within 150% of the required units.
If you fail to meet your SAP, you will be put on a one semester warning period, which will allow you to receive financial aid for one additional semester. If after the warning period you still do not meet the SAP you will become ineligible.

If you fail to meet the Maximum Time Frame SAP funding will end without a warning period.
If you are determined to be SAP ineligible, you can appeal for additional aid if there is a documented reason/circumstances which led you to not meet your SAP. Please note that you can only be Appeal Approved once while attending an RCCD college (Riverside City, Moreno Valley and Norco Colleges).

Before starting an appeal, review the SAP Policy to understand the SAP evaluation and appeal process.
If you've received a warning or ineligible status for financial aid, you should attend the next workshop. We'll review the requirements that need to be met to receive aid, how the appeal process works and what you need to know to submit your appeal.
View Workshop Information
Read RCC's SAP Policy
Appeal Your Status Online
Financial Understanding
Workshops and Events
Whether you need answers to questions you already have or you don't know what questions to ask — there are workshops that can help prepare you for financing your college career while also increasing your financial literacy.
Financial Aid TV
RCC's Financial Aid TV has short videos of relevant topics that can help shape your college experience — like walking you through completing applications or logging into a web portal. Search for specific content or general topics.
Community Outreach
Throughout the year Financial Aid Services hosts information sessions on campus, but we also reach out to K-12 schools and other organizations to promote the financial aid available to current and future RCC students. Where will we be next?
Helping Riverside Students Fulfill Their Promise
Free Tuition and Fees + Textbook and Other Support
The RCC Promise program is part of a state and nationwide effort to provide affordable education. Full-time eligible students who hold to their "promise" receive free no-fee tuition, support for textbooks, priority registration, access to educational and faculty advisors, activities and a dedicated community. Certain restrictions apply.
Additional Forms and Documents
For student loan information and forms, email us from your RCCD student email account to studentfinancialservices@rcc.edu. Please include your student ID number.