RCC Student Scholarships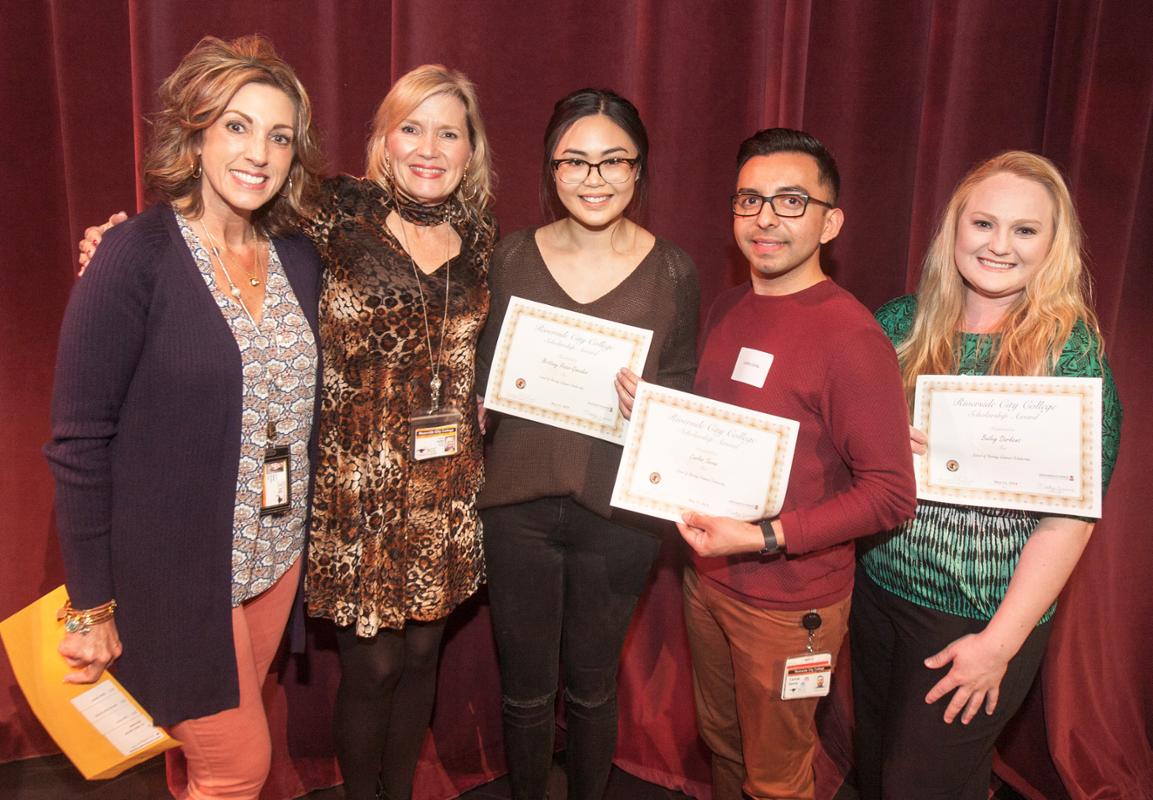 Financial Opportunities Are Available
Scholarships
Scholarships are here for you. As a student at RCC, you can apply for scholarships through the RCCD Foudation Scholarship Program or by completing scholarship applications sent to us by outside community organizations.
CONTACT US
CALL US - 951 222-8710
Scholarship Resources
Scholarships are a great way to help you with the cost of your college education. Most will require you to complete an application and request a written essay or meet some other selection criteria. Scholarships are posted and awarded all throughout the year. Stay on top of your opportunities, you might just be rewarded.
Many Scholarships, Which Will You Qualify For?

There are over 250 scholarships available to students through the RCCD Foundation, and only one application is needed to apply. If you are an admitted student at RCC and have a student email address, you can apply for scholarships offered by the RCCD Foundation. Non-athletes, non-full-time, adult students, low GPA, any income level…you'll be surprised at the variety of scholarships available.

After You Apply

The RCCD Scholarship Committees are made up of a combination of RCCD faculty, staff and community members who are committed to equality and fairness for all applicants as well as selecting the applicant who best fits the donor's requirements and scholarship criteria. Your scholarship application is reviewed and scored and the applicant(s) with the highest scores are offered the scholarship.
If you are selected, you will be offered the scholarship(s) in the scholarship system website. The system will send an email to your student email account with information regarding the scholarship offer. You will first need to log into the scholarship system to accept the scholarship award and then you will receive more information regarding eligibility, disbursement and the recognition events.
If you are not selected, you will not receive an offer email from the scholarship system. On your scholarship page in the scholarship system, you will see the scholarship status listed as "Not Selected." However, your application will remain active in case a new scholarship comes available or alternates are needed for scholarships for which the original recipient is no longer eligible.
Your scholarship application is confidential. By applying you agree that the RCCD Foundation may reveal or forward the contents of your application to the Scholarship Committee members, Scholarship Donors and/or other reviewing committees. Any disclosure of confidential information to individuals not directly associated with the evaluation process is prohibited.
RCC recieves notifications from community and state organizations when scholarships are made available. View our listing below for current scholarship opportunities. This list is updated on a continual basis.
Getting organized can really help you be successful in landing scholarships. Here are a few ways to be prepared:
Activate and use your RCC student email address.
Think of at least one person (a teacher, boss, mentor, neighbor) who would be willing to complete a scholarship recommendation for you. Give them plenty of time, and let them know what your goals are, your enthusiasm will be contagious. Don't ask family or friends.
Consider and write a few personal essays, this may even help you think of interests and organizations where you could apply for a scholarship.
Create a personal inventory of your accomplishments, awards, skills, talents, interests, desired field of study, career plans, extra-curricular activities, club/community involvement, volunteer service, network, etc.
Get a copy of your unofficial transcript from WebAdvisor​ and convert it to an electronic file, in case it is required. To access your unofficial transcript:

Log into your WebAdvisor account
Click STUDENT
Under ACADEMIC PROFILE click on "View/Print my Unofficial Transcript"
Print your transcript, scan and save it to your desktop or memory device
Click the HELP button if you need added assistance

Create a list of scholarships, their requirements and deadlines.
Apply for as many scholarships as you can, but only if you qualify. Don't wait for the deadline. Make sure to include everything required and answer all questions neatly and with proper spelling/grammar. Failure to proofread could cost you hundreds or even thousands of dollars.
Ask. You never know. Businesses, social organizations, libraries, churches, hobby groups — places and people you already interact with may be a possible source of scholarships.

You can also try the Internet…but take care. Check company HR pages or chamber sites. Do not pay fees to look for scholarships (they're probably scams). Two well known scholarship search sites are FastWeb and scholarships.com

Google is a powerful tool for scholarships. With the right keywords you can have a very targeted and successful search. Type in Scholarships and you'll get millions of results, add something more specific like poetry or music and that number will drop. Alternatively search for Foundation (which often award scholarships) for better results. Terms to try:
Scholarships (singular and plural will provide different results)
Grant
Financial aid
Endowment
Foundation
Fellowship
Honorarium
Trust
With a few extra terms you can have very different results, for example, if you're searching for a music scholarship, these searches would give you different, but possibly equally useful results:
Music scholarship
Music scholarships
Music scholarship application
Music scholarship deadline
Music scholarship grant
You can also combine geography into your searches to make them even more targeted, such as:
Southern California music scholarship
Southern California music scholarships
Inland Empire music scholarship
Inland Empire music scholarships
Northern California music scholarship
Northern California music scholarships
The more refined and detailed you can make your searches, the higher quality your results will likely be. You can even add multiple terms together:
California music scholarship application deadline filetype:pdf
California music scholarship application deadline filetype:doc
For more Scholarship Search Secrets, visit www.studentscholarshipsearch.com.
If you are awarded a scholarship from a source outside of RCCD, the procedure will probably go like this…
The organization or donor providing the scholarship will notify you that they have chosen you as the recipient of their scholarship.
You should follow the donor's directions on how to access your scholarship. They may require proof of college enrollment. You may submit your class schedule printed from WebAdvisor, or if they are requesting "official" proof of enrollment, contact Riverside City College Transcripts & Records office at (951) 222-8603.
Once RCCD receives your scholarship funds, you will be sent a letter acknowledging receipt of the funds and a schedule of disbursement dates. Scholarship funds are disbursed using the same disbursement method as all other financial aid and follows the same disbursement date schedule.
Scholarship funds will be disbursed to you when your enrollment has been verified on the next disbursement date after receipt of the funds. It will be your responsibility to use the scholarship funds for education expenses, housing and/or transportation as allowed by the terms of the scholarship.
At the end of the academic year, you will be sent a letter regarding any remaining balance of scholarship funds. It is your responsibility to use your scholarship. All unused scholarship funds will be returned to the donor.
Sound too good to be true…it probably is!

Look for these warning signs and phrases:

Fee for Application. No reputable organization will ask you to pay to apply, remember the adage "Money flows to the student, never the other way around." As a general rule, you should never have to pay more than postage to apply for a scholarship.
Exclusive Scholarship Info. If a service claims to have "exclusive" information (not available anywhere else) this is almost certainly fiction. The vast majority of financial aid comes from the federal government and from colleges themselves. Private foundations and organizations that do offer scholarships are eager to spread the word so they can attract the best candidates — they have no interest in keeping secrets.
No work – Free Money for College. Another red flag is a claim from any service that it will do "all the work" for applicants. Any legitimate scholarship sponsor will want to hear from the student and that often means filling out paperwork and writing a letter or essay. There is simply no way around it.
Scholarship Guaranteed. No service can guarantee students a scholarship. Money-back guarantees are a common feature of scholarship scams. The fine print reveals a list of virtually impossible stipulations in the event the student wants to reclaim the fee. Every true scholarship has some parameters – such as grade point average, professional interest, volunteer service or club affiliation. So if a service claims it can obtain funds for anyone, it's not being honest.
"You've Been Selected!" Unsolicited Offers. These are always suspect and any notification that comes over the phone is sure to be a scam. If you receive information that was not requested, you should investigate before giving out any personal information or paying "processing" fees. Ask how the organization got your name, make follow-up phone calls to check the answer, or conduct an online search on the organization.
"Advance-Fee" Loans. Be wary of any offer for an unusually low-interest education loan that requires the student to pay an upfront fee before the loan will be approved or disbursed. Real lenders deduct their processing fees from the loan check before they send it to the student. You should be especially suspicious if you don't recognize the lender's name.
"Free Seminar" or Candidate Interview. This is often a glorified sales pitch for a financial aid or scholarship consulting service or a pricey private student loan.
CGACC-RCC International Student Scholarship​
International Students at Riverside City College are welcome to apply for CGACC-RCC Scholarship. This scholarship is in the form of a tuition fee reduction estimated at $1,250. The application deadline for CGACC-RCC International Student Scholarship is July 10, and the results of the students selected are typically announced by August 1.
To be eligible for consideration for this award, the applicant must be a new or continuing international student who will study full-time at one of the RCCD colleges (Riverside City College, Norco College, or Moreno Valley College) on an F-1 Student Visa in the fall semester. Transfer students can also apply. New international students must have a completed RCC international student application, submitted all required application documents, and received an RCCD I-20.
To apply, please submit the following documents via email to InternationalCenter@rcc.edu before the application deadline:
This Application Form​ including a 300 to 400 word short essay, and
One of the following:

​​​​​New students: TOEFL iBT or IELTS test scores
Continuing students: Unofficial RCC transcripts​
Applicants MUST submit both requirements in ONE email as attachment, and the RCC-Center for International Students & Programs will reply with an email confirmation that the application and required documents are received.
The scholarship committee will select the most qualified applicants based on merit. This will be the addition of points from the overall GPA (or TOEFL iBT or IELTS in the case new students apply) and the points from the essay.
The CGACC-RCC Scholarship Selection Committee encourages international students to apply and wishes all applicants the best of luck!
Scholarship Information on RCC Financial Aid TV Videos
The Price of Being a Student
Understand the Costs
Tuition is only part of the story…books, rent, food, cellphone, utilities…there are many things you may not have thought about. To get an idea of what you'll need to comfortably attend RCC simply answer a few questions.
How to Pay for College
Grants, scholarships and financial aid are just a few of the ways to pay for your college education. Learn other ways to both earn income while attending school and better understand the financial demands you'll encounter as a student.
Close the Financial Gap
Applying for Financial Aid
Scholarships are not the only way to get assistance in paying for your education. There are a number of grants that you can apply for by filling out just one application. If you haven't already, investigate what is available to you through Financial Aid.