Health-Related Sciences
Interested in promoting health and wellness in your community?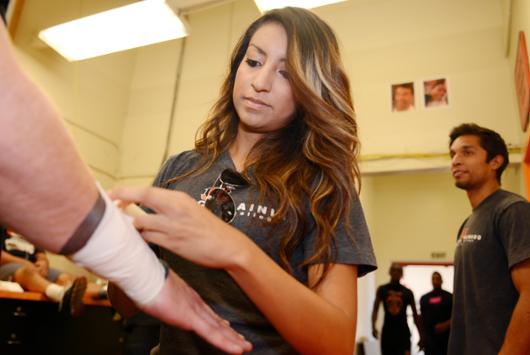 Working for Better Health
The Health-Related Sciences instructional Pathway is designed for students who are interested in careers to promote the health and wellness of individuals and communities such as kinesiology, nursing, nutrition and dietetics, or public health.
Explore Our Pathways
ADT
Associate Degree for Transfer
Online Options Available
Explore, While Staying on Track
Students entering our program are encouraged to choose from identified required courses for your first 16 units. For additional guidance, please make an appointment with a counselor.
Health-Related Sciences Courses
Units
Math 12/12H

(*Math may vary based on placement results, Mat 12 is recommended)

4 (6*)
Biology 1/1H or Chemistry 2A
4
Sociology 1/1H or Kinesiology 4 or Anthropology 2
3
Library 1 or Guidance 45 or Nursing (NXN) 84
1 -1.5
Communication Studies 1/1H or 9/9H
3
Total units
15-17.5
*Students are qualified to take transfer-level Math and English or academic ESL in the first year at RCC
WE ARE HERE TO SUPPORT YOU!
Riverside City College knows deciding your future can be confusing — because you have so many options. We're here to provide you with the knowledge needed to make informed decisions.
Health-Related Sciences Engagement Center
Counseling Department
Counseling Department
Dr. Charles A. Kane Student Services and Administration Building
(951) 222-8440
Career and Transfer Center
Explore your future career and education paths
Career Center
and
Transfer Center
Dr. Charles A. Kane Student Services and Administration Building
First Floor
(951) 222-8446
Community of Learning
Simulation Lab
Simulation Lab Earns Accreditation
RCC's School of Nursing's simulation laboratory received accreditation by the Society for Simulation in Healthcare (SSH) Accreditation Committee. The College's simulation laboratory becomes the first community college facility in California to earn this accreditation. Nationally, eight community colleges have attained accreditation